The original force behind them were disgruntled lesbians
Richard
:
Personally, I hate sexual harassment laws.
The original force behind them were disgruntled lesbians
who felt they weren't given the same opportunities to get ahead.
Judge
:
Excuse me? disgruntled lesbians?
Lesbians started sexual harassment laws?
Richard
:
A along with ugly women,
who were jealous of pretty women
who got all the breaks in the work force.
If you look at the majority of woman
that bring these suits. Ugly.
My cause to action is simple,
women are victims
.
They need special help.
Look, at the evolution of these sexual harassment laws.
What we are really saying is women really should qualify
under the Federal Disablity Act.
They are less able. (社会的弱者だ)
They cannot cope with romance in the office.
They cannot contend with having to do a job
and have a man smile at them.
It is too much. (もう一杯いっぱい)
Look where we use to be, first
quid pro quo
,
then hostile enviorment, and now Seinfeld episodes.
Women can't take it; they bruise too easily.
The laws are here to protect the weak and most vulnerable in society.
She is woman, protect her
!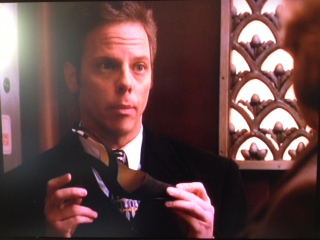 Richard
:
Georgia, give me your shoe.
Why would a grown preson walk around on something like this
?
These are hugely uncomfortable
.
They make it easier to fall
,
plus they cause back
(背骨)
problems
.
But hey, just call it "fasion."
There's a name for this kind of person. "Woman."
She does all these things
because men, we like it.
Don't take to me about eqality.
Don't tell me you're ont disable.
弱者じゃないなんて、言わないでくれ!
Season 1 / Episode 18:
The Playing Field
quid pro quo
ラテン語で「交換」や「見返り」の意味。
Quid pro quo
. I tell you things, you tell me things.
Not about this case, though about yourself.
Quid pro quo
. Yes or no? 
代償の法則。君も情報を教えろ。
この事件ではなく君自身のね。交換だ。どうかね?
羊たちの沈黙
関連記事

The original force behind them were disgruntled lesbians